I was called by a resident in our area to come an rescue an African Rock Python that was stuck in the roof of an outbuilding that was being demolished.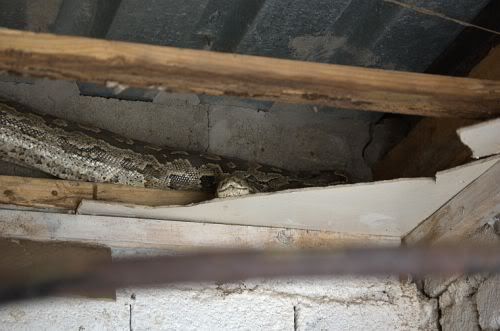 The Python had obviously recently eaten quite a substantial meal, and the bulge of the food in it's belly had caused it to get stuck between the roof and the rafters.
We were perplexed as to how it managed to eat a meal and then climb into the roof, with no obvious places of entry large enough to fit it's full stomach through.
After about an hour of sweat and toil, we managed to extract the 2.8m beast from the roof. Working on a ladder at arms length above your head, supporting such a large, heavy snake was equivalent to a weeks worth of gym time! It took 4 guys to lower this fellow safely!
Upon release at a nearby dam, the mystery meal was revealed as the snake regurgitated it's food, as pythons do, in an attempt to make a hasty getaway.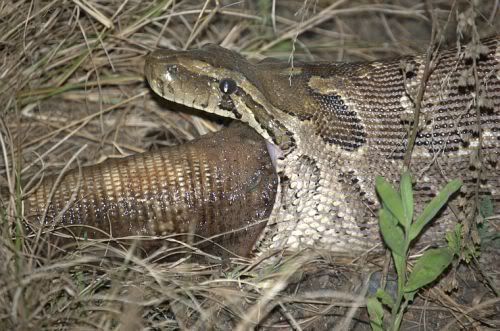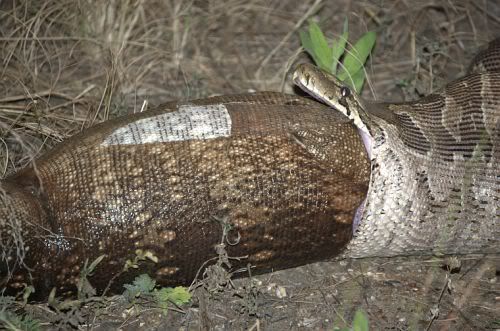 The prey turned out to be a large rock monitor. The lady who owned the property told us that there had been a large rock monitor living in the roof of the dilapidated out building. This solved the mystery. The snake must have climbed into the roof, and made it's kill inside the roof, consumed it's meal, and then had no way of escape, as it was now too big to exit through the same hole that it used to gain entry to the roof.