Hey All,
So I managed to pick up a little Usambara Eyelash Bush Viper from the show much to my happiness!
This little guy wasn't in the best of shape when I got him on Saturday as he had a bit of shed left on him/her, but I soaked the little guy and managed to get everything off. This seemed to be the runt of the litter, but I liked the colours and very chilled temperament.
I have done quite a bit of research on them and have come to realize that they are quite a lot of work, which is something I enjoy with snakes so I am going to give this a try.
So far I have gone out and bought a tall tub, and built many perches inside it at different heights with plenty hiding spots under large leaves, I have read allot of mixed opinions about temps and heard allot of mixed opinions about temps from a few people, So I am going to try the in-between route, not to hot and not too cold with dips at night and a rise during the day with a light spray in the morning and at night to mimic the morning mist and evening fog that they would expect in the mountain forests where they originate at around 1400ft above sea level.
I got the little guy to eat on Saturday night which made me happy and it didn't take too much effort, just a little patience and some teasing and he took it.
Here are some pics:
This is the soaking situation, trying to get that excess piece of shed off.
Here he is just after removing the shed, looking allot better already!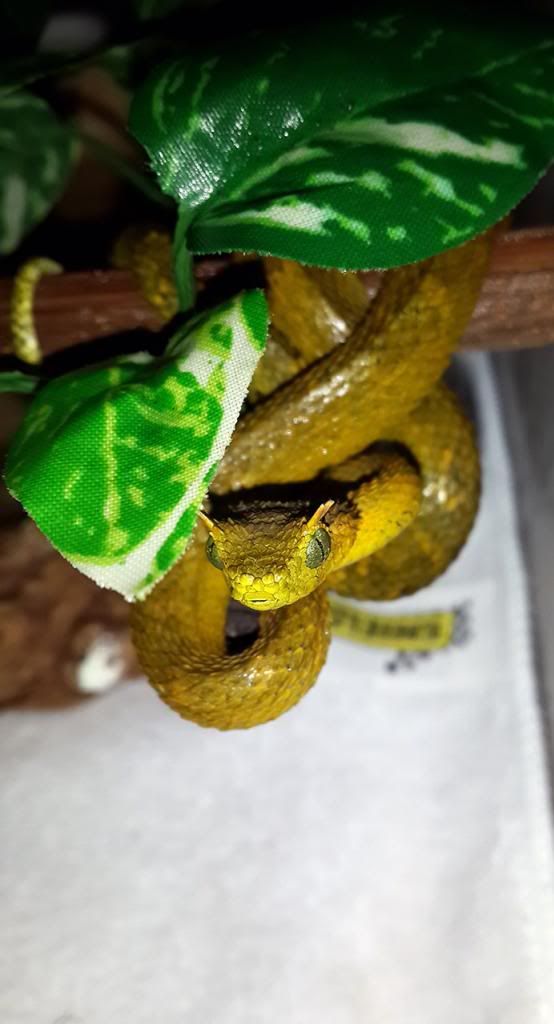 Just after eating, looking pretty satisfied.
Anyway, if anyone has any other advice on the care of these snakes, please share it with me.