I hoped the day would never come... but as they say - you are either in 1 of 2 groups..... so now... I have been bitten.
Although I have had almost 20 years experience keeping snakes (of which 10 of these are keeping venomous) I had never been tagged by a hot, yet I knew in the back of my mind it will happen one day.
I am not gonna say don't keep hots, and only do this or that, but rather know what affect your hobby/passion/profession has on those you care about.
Owning any hot is a huge risk not only to your own health but a risk to the people you love. The people you care about (some of you will agree) they do not really want you to be so intimate with something potentially deadly. In one split second you are happy and loving life then
they
are in a mad panic, worried that their life may be turned upside down as a result of an incident with your slithery friends.
Complacency is a b1tch, and it hurts!
So here is my
VERY LUCKY
story!!!!
Sunday 24 October late at night, doing chores for my scaly friends when it came time to examine my Eyelash Viper (who has been very unhappy and not eating for a while).
After pining and examining the mouth for signs of mucus and infection (which was clear) I decide to
quickly
check his lung if that was clear too.
STUPID
me I thought I could just quickly check while I had him firmly gripped (instead of tubing him), this combo he really did not like and as quick as a flash he twisted in my grip with such force I thought I was going to break some bones and promptly jabbed one fang neatly under the nail of my middle finger - boiling water injected directly into your flesh! that's what it felt like! Instant pain!
I made sure the snake was back in a safe holding tank and informed my other half which did not go down well (note - when you do work with your hots make sure you are not alone!)
I packed a few things. Pressure bandaged my finger hand and arm and went to Milpark hospital.
I did what seems to be the customary thing here in JHB and called BV to ask for advice on route to the hossi's, fortunately BV said it did not sound too bad. (Huge thanks again BV)
30-45 mins after bite - The pain was now moving up my arm and there was massive intervals of throbbing every 5-8 mins in my finger and hand.
Here are some pics...
The bite site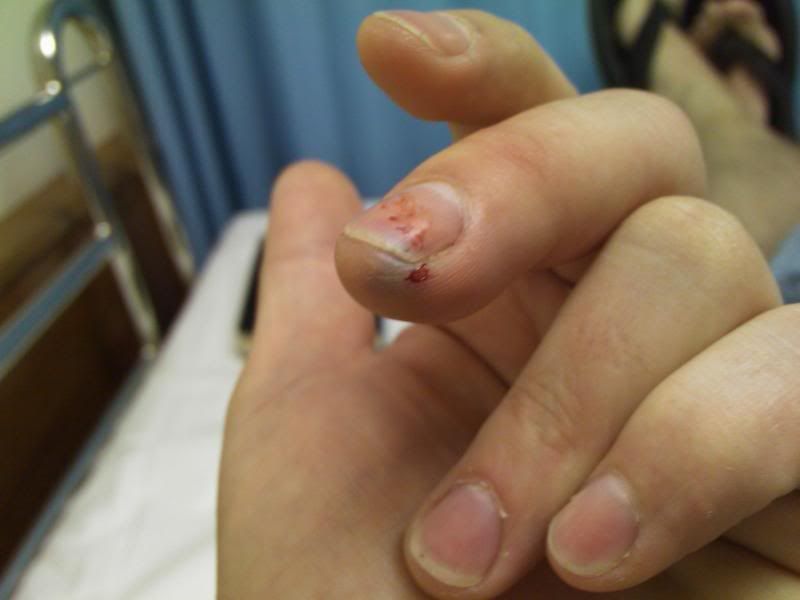 Swelling in the finger tip
My whole hand - note the lack of swelling ontop of my hand
At this point my armpits were also tender
The next Day -Red Swollen and sore!
I could not not make a fist and the throbbing was intense with the occasional burning sensation at the bite area
Thought this may be of interest to someone - my blood test results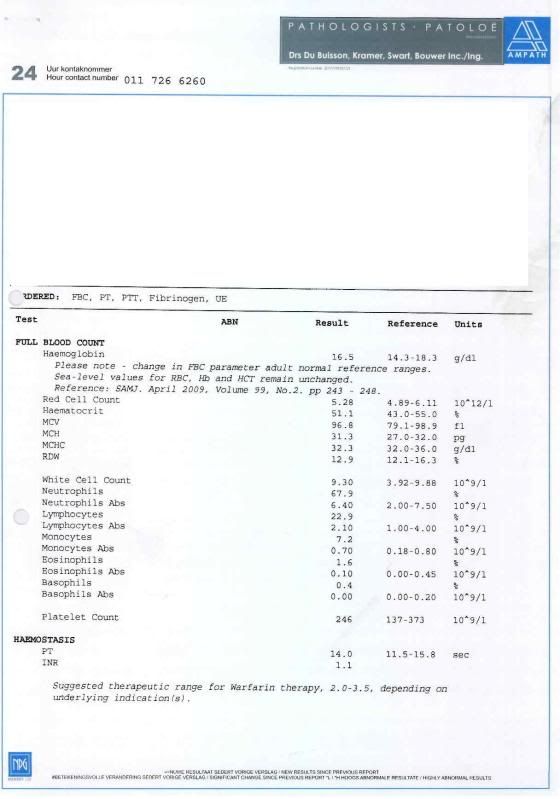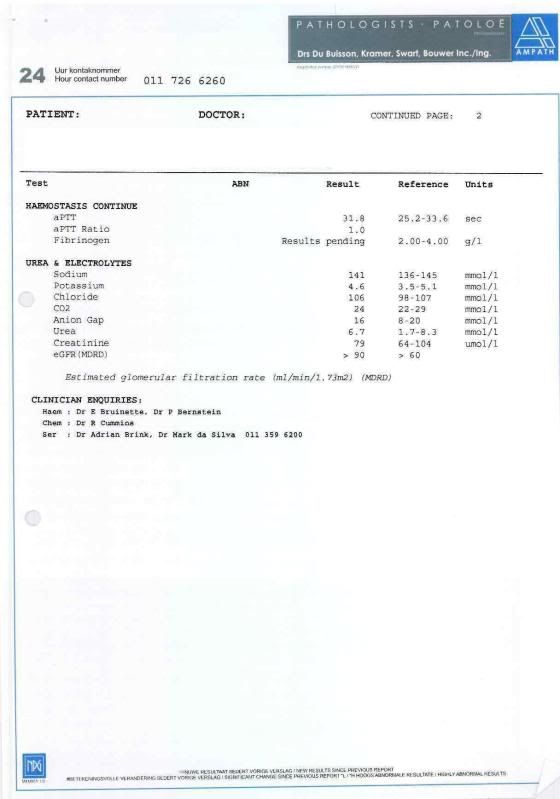 Well 5 days later the swelling has gone down completely, I still can not use my middle finger for anything - its also has very little touch sensation, almost dead feeling on the tip but if I bump it OMG it hurts.
Total fluids count on first 2 days - 10 litres of water and 6 energades
Countless tips to the bathroom!
That's my lesson learnt, and unfortunately a horrible event for my other half to which I will be reminded of in the future when I want to add anything to my collection.
All in all I had a very minor bite and I was very lucky!
Here is the little gem - beautiful but a world of pain if you mess with the pointy end!