Atractaspis bibronii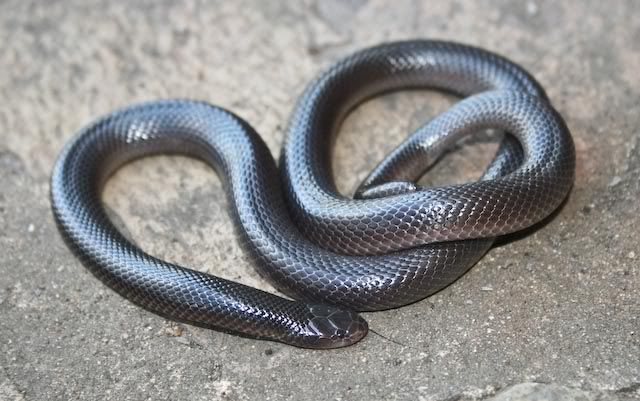 Ranging from 40-80cm
This family of snakes occur in Southern Africa and further north to mid Africa and in the middle East.
It has a cilindrical body and the colour can be from a brownish pink to black with a lighter belly.
This borrowing snake has a terminal spine.(an uncovered piece of spine protruding through the tip of the tail)
It usually comes up to the surface after heavy rains in summer nights.It has tiny eyes and it has huge hingeble fangs located just under the eyes.
These bad tempered snakes can not be safely held behind the head as it can hinge a fang
through a closed mouth.The venom is known to be cytotoxic and necrosis followed by gangrene
is not uncommon in bites.No deaths has been recorded but missing fingertips is common
amongst people that tried to catch them.
It feeds mainly on smaller reptiles,but also take small mice.
They lay up to 8eggs in summer.
When the snake is about to shed it's skin,the color changes to a purple blue color.
This picture you can see the display when they are threatened.
Here you can clearly see the color change when it is about to shed its skin.Also note the terminal spine on the tail tip.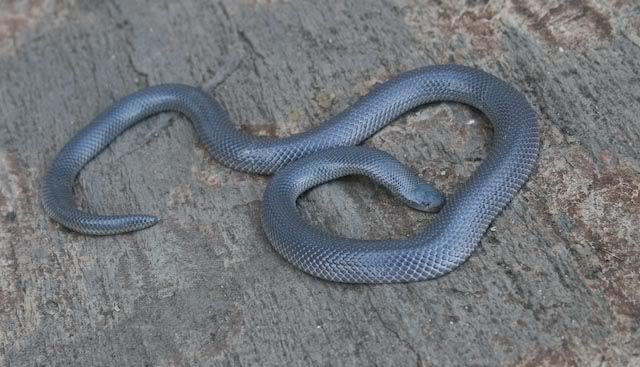 The feeding habits of this snake is quite bizarre.It will drop a fang out of a closed mouth and stab the mouse to death.
Only after the mouse is dead,it will open the mouth for the 1st
time and swallow the prey as normal,but then the jaw of the snake is bigger than the skin covering it,
It sort of walks the prey down the throat and you'll be surprised to see the size of the meal that it can put down.
I took about 200 photos to luckily get this single photo of a fang.It is only visible
for a split second after stabbing the prey before it hinges it back into the mouth.
I had to put a watermark on this image as it might be going into a book at some stage.You can clearly see the long fang it used to stab the prey to death.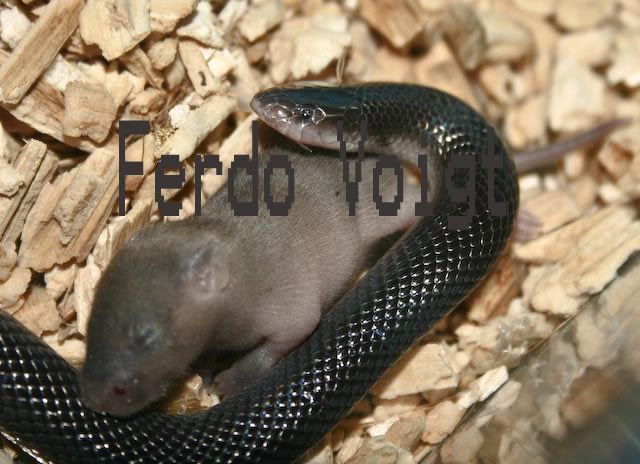 And here is a pic where it swallowed that big meal.The moment it start to swallow the prey,they are quite relaxed,but apart from that time,they are always ready to bite.
Here is a picture of a wolf snakes(Lycophidion capense)
These harmless snakes poses close similarity to the Atractaspidae ,but in fact is harmless.
It lacks the terminal spine.But it also has a jerky movement when threatened,It will quickly coil and uncoil itself-just like the Asp.
Here is a picture of a different locality of Atractaspis bibronii.This one is from Limpopo(further north)It has a white belly that extends halfway up the black body.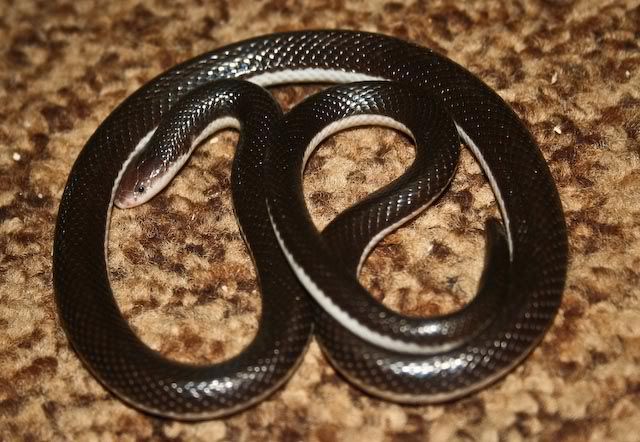 Changed the title because these snakes are not known to borrow items but will burrow. BV