I managed to get my hands on 2 x 3 month old Leopard geckos exactly a month ago
. After a week of letting them settle I noticed that the front leg of the now Rex was broken and in a panic took them to a well known Reptile Vet ...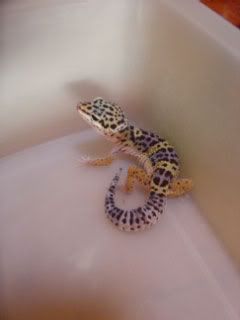 This is Rex - he weighed 10grams and is protecting his broken front leg
This is Crinkly Angel - I thought she was fine but as will be revealed it was not so ... She weighed 6grams
The Vet did some tests like trying to open Crinkles Jaw with was very, very rubbery - he managed to open it to 90deg where there was not joint on the jaw bone
and confirmed that Rex's front leg was broken, in 3 places, - hence him not putting weight on it and that the other one was on its way (I also did not realise at this stage that both Crinkles back legs were broken as she seemed the stronger of the two
- clever Dr Verseput did it turns out later … )
Basically the prognosis wasn't good - they were underweight, both had severe metabolic bone disease and my choice was to return them to the previous owner or struggle to treat them understanding that I could lose one or both of them due to the stress of constant handling and treatment. He assured me that if either one of them dropped their tails in treatment it would be over as they were in a bad way already and wouldn't survive the ordeal of losing a tail as well. By then we had named them so it would be treatment at home which was not a very cheerful prognosis but still better than euthanasia …
How did they get to this?
1. In this case they had not had a calcium stash constantly in their house,
2. food was not dusted with calcuim very often, about once a week (Dr Verseput suggests that this is not sufficient anway as he sees lots of leo and beardie patients with mbd and all their live food has been dusted - so he recommends calcium in the salads for salad eaters and dusting and leaving a fine layer of calcium in the bottom of the feeding bowl so that the predators get an extra lick of calcium each time they eat stuff),
3. Another possibility was that they had intestinal parasites that were impeding the absorption of calcium into their bodies
4. With babies apparently if the parents have a calcium deficiency (not necessarily mbd) then it is possible that the babies have MBD – passed from mother to egg (read this off many American forums as I have not bred leos and know nothing about it :wink: )
What to do now that I know my leos have MBD (besides stress …) …
1. Due to them being MBD and being under treatment and having to ensure the food consumption of both leos, they both needed their own houses … this to give them equal access to food and less sibling stress in an already stressful time …
2. 1 x high output reptile uvb fluorescent tube (either a 10.0 or an 8.0 – no brands mentiond :wink: ) each (I added a reflector to each so that they could be on the ground and still get uv – this is to help them metabolise the calcium as their bodies have forgotten how to do it and they need all the extra help they can get at this stage. I checked this with the overseas forums and they all agree that it is standard procedure to have uvb for mbd leos and the higher the better. However unlike the Bearded dragons whose uvb needs to be changed every 6 months, the uvb tube can be left in the leos house longterm …
On this note apparently some states breeders are experimenting with low level uvb tubes or old bearded dragon tubes in their leos houses and they are finding that their leos will come out and bask for about an hour or two each day under the uvb – sometimes as close as they can get. Dr Verseput is doing this with his leos at home and finding the same thing too …
New research is also suggesting that Lizards and geckos know how much uvb they need and can self regulate it unlike us who sit in the sun and burn they will actually leave the uvb area before they get sizzled . I am doing informal research with my Beardie and I am finding that he is choosing between the basking light and the uvb tube, separated by 15 cm sideways span and which he can get to within 5 cm of (he is only 2 months old). He will spend hours hanging out under the uvb tube – migrating back to the basking light to get hot every now and then and then back to the uvb – this is after a huge house rearrangement to get him closer to his uvb and a reflector and boy does he love it. PS access to the uvb ranges from 5cm to 30 cm in his case so he can decide on what levels he wants but most often he is in the 10cm mark and his basking spot averaged is about 38C (baby beardies need a higher basking temp than adults …)
Dr Verseput also suggested outside time if the weather was fine for the leos – this with a shelter for them but about an hour a day each. In nature the uvb will bounce off the rocks and into their hide outs making them get uvb each day and also they come out early evening and bask in the last rays of the sun for uvb in the wild. Please note that I did not say put them in a box with nothing and dump them in the sun! Big shelter for them to 'hide' under and protected house for uvb bouncing – ie like a large Rubbermaid container or box etc (not glass as that cuts uvb out!) also a widely spaced mesh top to prevent the neighbourhood cat munching on fine lizard ...
3. Instant deworming/deparasiteing at the vet … to try and eliminate this as a problem
4. A slurry of Hill A/D prescription catfood and Calcium and a touch of water in the following formula – about ½ tsp of hills cat food and ¼ tsp of calcium (a cooks pinch :wink:) mixed with a few drops of water to make it runny enough to go into a de needled insulin syringe. Dr Verseput then showed me how to hold them to not damage the tail and then inject 0.1cc of slurry down their throats every night for 6 weeks or more … Will make a separate page on how to slurry leos or this will be way too long …I have since found/been given another 2 neat slurry mix recipes that are stupendous … I found I had to force them the first 2 days and then they decided they liked the slurry and Rex would start licking and looking for the syringe as soon as I picked him up silly boy
Crinkle however was a different story completely … This was followed up with food in their houses each night …
5. a kick butt calcium with D3 (if you have no uv light) or straight calcium if you have a UV light as they use the uvb to convert calcium to D3 so their bodies can absorb it, I am now using T-Rex Bone aid which is specifically for animals with mbd, disease or trauma – think mine are good candidates :wink: However I am mixing this with a calcium with D3 to keep their odds up … this is to be placed in a bowl or cap in house at all times, as well as severely dusted on all living things in a bowl preferable to keep the calcium on the live prey, liquid calcium in the water as well …
3 weeks treatment findings …
1. the leos love the uvb light and one spends all her time under the uvb, with log for shelter, exposing bits of herself to the light all day long … Rex comes out and spends about an hour or two a day basking and then slinks back into his humid hide … Surprisingly enough both lie directly under the uvb tube and not to the side which they can easily do as there are lots of hides in their houses and logs etc.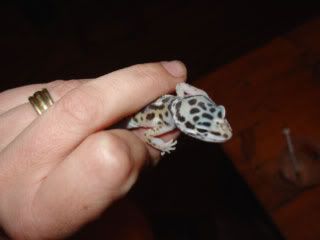 Crinkle with her slurry nose and new uvb enhanced colouring …
Crinkles uvb enhanced leg spots – she is a real uvb goddess – in retrospect I now know why …
2. Rex loves the slurry and Crinkle hates it – she won't even open her mouth now and it is a huge battle …
Rex 2 weeks into treatment after not being able to put any weight onto his front legs …
3. problem sheds are the symptom of health problems, in Crinkles case severe mbd and she will be a battle for the rest of her days.
4. some leos handle the stress of treatment better than others – Rex doing brilliantly and Crinkle really limping along …
3 Week Verseput check – after calcium slurry every night for 3 weeks (more than 0.1cc if I could)
1. huge improvement and apparently both doing superbly even though Crinkle looks so terrible …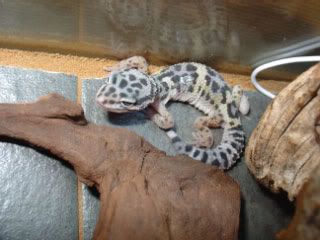 Crinkle who I thought would have to be put down but apparently this is good … she is now 11grams and swinging 1 or 2 grams in each direction but Verseput is happy with tail, look and improvement in weight. She can still flight if need be which is good too. She is walking funny due to 2 previously broken back legs (one in 3 places, the other one break) but he recons she will get some mobility back with time. She is not coping with the treatment stress and we are now trying to keep her eating herself with lots of added calcium to every thing and then slurry once a week of super charged calcium. If she doesn't eat she will be back on calcium slurry once a day which will not be good in her case at all … Also I have to watch her carefully for weight change – weigh in once a week and of course watch her shedding as both have been super problematic due to her illness. I am quietly hopeful that she will make it but she is still one very sick leo who seems to have given up the fight – I hope she turns the corner soon …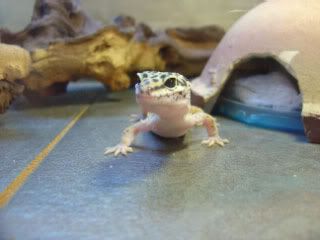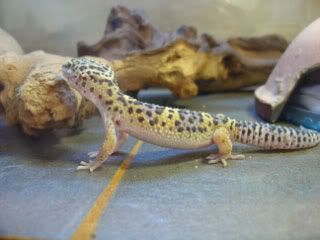 Rex is doing superbly and is apparently an overachiever :wink: his prognosis is fantastic and he is on food and lots of calcium with slurry once a week much to his disappointment I am sure – hee hee. He has gained from 10 grams to 18grams and is getting bigger and bigger each day. A few more breaks in limbs discovered but he is mending and putting weight on them so he is good to go – will keep uvb tube in but he is not in need of another check up by super Verseput …
Any further discoveries?
1. if your leo is eating sand – can be seen in the stools – then there is a problem and they are severely calcium deficient. I have since grouted the tiles in Crinkles house and will be making a frame to stop her access to the grout - she is a determined girl this way. With no other options hopefully she will only eat calcium – silly child!
2. Silkworms are a fantastic feeder for sick leos – best meat ratio to non-existent chitin – high protein and meat content etc. This followed by super worms and crix then mealworms – this is what I have found after hours of research (google nutritional comparison of … or nutrition value of …) Dr Verseput feeds his superworms, Silkworms and occasional crickets. It's a good enough endorsement for me, especially as he is a long term leo owner :wink:
PS I have been liasing with someone on skype about his mbd leo and he is not getting as marked results – no uvb tube but outside time for the leos for some time a day – will ask him to add to this and give his findings …