It has been a while in the treatment of my MBD babies - they started treatment in the middle of June 06 so this is 5 months down the line.
They are both still under UVB lights and I am no longer slurrying them but they have access to some very hardcore calcium that seems to be making all the difference in Angels case
.
Angel has decided that life is fun and that she would actually like to live
. She has stopped constantly searching for death daisy and is now suddenly picking up between 5 and 10 grams a month as opposed to her slow 1 to 5 gram growth in the past. She is now also shedding completely on her own but she is still a squeaker when I pick her up to see if she is shedding properly
A beautiful quiet little girl who hangs out under the UV light and is always close to her food bowl
.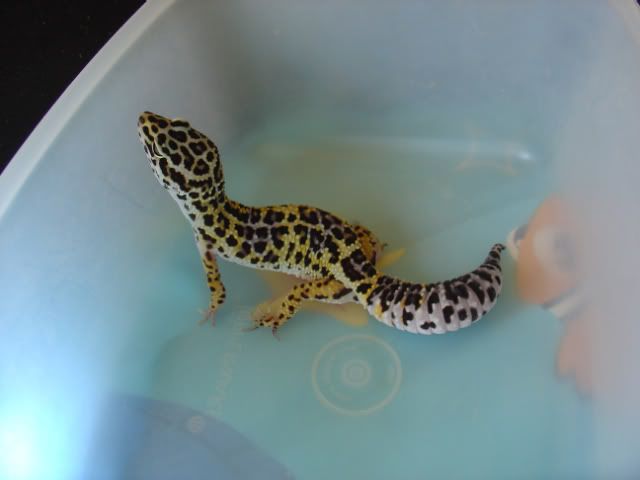 This is Angel weighing in at a stunning 48 grams - she was originally 6 grams and 3 months old when I got her and we started MBD treatment.
Angel proving that she can escape - a true sign that she is over the worst of her MBD
- super stoked
Then Rex, my big boy! Rex is now weighing in at a whopping 71 grams. He loves living up to his name in his house and surprised me and nearly gave me heart failure by playing crocodile and jumping straight up in his house - lifting himself about 10cm off the ground before he crashed himself in to his house greenery. He seemed very pleased with his effort especially as it produced some crickets who all shot out the greenery at pace when the Rex landed in it
He was less pleased when his mom hauled him out and gave him the once over to check for any physical dammage though
He is my absolute hunny bunny and loves coming out for a cuddle and an explore with his mom
This is Rex weighing in at 71 grams from 10 grams at 3 months old too
bit of a handsize comparision if that helps to size him ....
Rex again, just because I can
Then not to leave Leia out - her owner would be sad
Leia is fine and healthy and weighs in at 54 grams and is now 7 months old. Look at the tail on her, she is definitely proudly South African