For those that wanted to know and those that didn't This is the step by step from my Repvet and my handlings at home ...
Ok step by step feeding the slurry to the leo babies, Leia is in the mix to make sure she is getting her calcium and I will do her once a week to keep her calcium up ...
The slurry bowl, this one is a mixture of hills cat food tin, calcium and a touch of water however I have made and frozen a slurry of hills, water, calcium and blended silkworms – smells disgusting and don't use our ice cube trays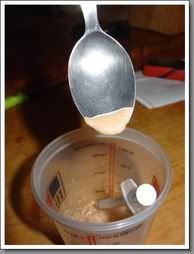 The slurry consistency, notice it is all smooth ..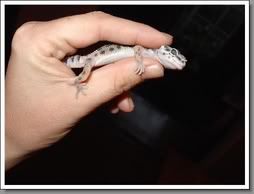 Holding Crinkly Angel, I let her think my thumb is a log and she clings to it while she eats … Note I am only holding her down on the top of her back and not touching her tail as I don't want her to drop it … Also you can see her broken back leg here - :?
The first drop of slurry, wwwaaaaaiiiiitttt but once she starts licking it it goes down well …
When she gets feisty she gets this hold with more pressure on the top than on the tail – take your thumb and pull it down under her chin to expose her jaw and split her lips, then jam syringe in gently and pry open the very rubbery jaws, once open squirt slurry in, stroke under chin to let slurry go down ..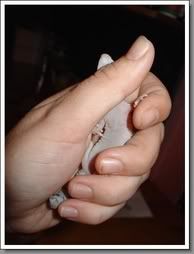 The bottom of the forced feeding hold – see all gentle down below and mainly gentle pressure on the head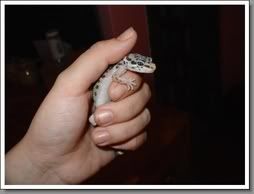 Being good again
Ok and now rexs turn, he is a big boy …
His slurry beard and his very bent front left arm …
His very broken front right arm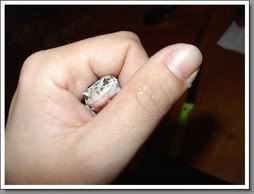 This is leia and this is her first slurrying so she is not at all impressed … - dribble on the nose and using the watch out hold – put thumb under chin in this hold and pull back or down the leo body to expose the lips and jaw, syringe in and squirt … (all done gently ... )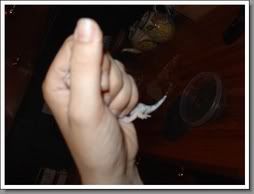 This is her response to this indignity! Humph! But she is licking madly so hopefully next time will be easier and she will lick! (the follow up slurry a week later was a breeze and she licked it all up
)
Sorry couldn't get me syringing pics as at home on my own – well ... I am not sure how good a 6 year old is gonna be at pointing a camera
Hope that helps with your slurry issues and good luck …