I have always had a fascination with our Nile Monitors, but due to them being a TOPS species, and the fact that no one in the country breeds them (as far as I know), I have always had to enjoy them from a distance while they trundle into water, holes, or other unviewable hiding places...
End of April, Beginning of May, I (and a few friends) went for a herping drive through to Jozini/Hluhluwe area, and we stopped off along the way there and back at several spots. We didn't find much except for a few pancake juvenile pythons (left them right where they were), one flat snouty, and a fresh DOR Black Mamba (There was no ways I could possibly save that one)...
So, our Sunday ended off without a single live specimen... The following week Tuesday, I went home for lunch, and stood outside having a cup of tea. My sister's huskies were there, as they were building palisade fences, and didn't want their huskies escaping... Standing there, I noticed the male huskie growling and barking at something at the end of the yard... taking a leisurely stroll, I saw something thin lift it's head, and inflate it's throat... My first horrified thought was that there was a boomslang that they had cornered (hopefully not one of my captives that escaped...), but then I realized that Boomers don't have legs!!!
Dropping my tea, i ran to where the dog and animal were, to see a young Nile Monitor defending itself from a purely inquisitive young husky. The husky wasn't trying to attack it, and was merely curious as to what this strange dragon was... I shooed the dog away, and tried to grab the monitor. Nope... I was in no way quick enough, and he darted to the closest wall, and a small pile of loose bricks. Now cornered, it was easier to grab, and in doing so, it grabbed me too...
Bleeding freely now, I had a 50cm monitor dangling from my hand, and walked back to put him in a holding tub. Went back to work, and had to now make some decisions.
My conundrum was:
1. In over 22 years of herping my home town, i had never come across a monitor anywhere in town.
2. I had recently been to areas where they occur in abundance (stowaway for the engine heat?)
3. I cannot just release it willy-nilly and potentially contaminate the genetics, or introduce new pathogens to an established area/population...
So, I contacted KZN Ezemvelo Wildlife, and asked them what I can do. After a short discussion, I wrote a motivational letter, sent it in, along with some other documents they sent me to fill in, and on the 27th of July 2016, I became the legal owner of a single, unsexed
Varanus niloticus
.
Without further ado, some pics of the monster, who is now called Gizimodo. He will be an invaluable help in my talks on reptiles in the future. While i was building the enclosure for him, I did not have a UVB light, but daily outtings in the sun were probably better than any artificial light, and he still gets daily outside time in the sun.
The enclosure just before completion...(Metal framed)
Testing the UVB light
Introducing him to his new temporary home (while I build an outdoor enclosure)
I think he digs it...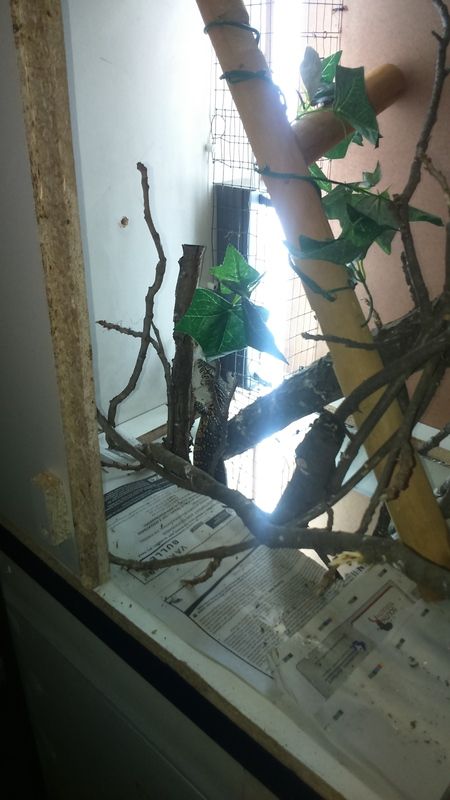 Relaxing on a weekend afternoon.
He was bitey to start with, and extremely runny, but he's calming down now slowly, and is actually quite pleasant to work with. Loves his rodents, and compared to some Rock Monitors that I've had the displeasure of working with, he is a pussy cat...
Thanks for looking! now I'm off to go relax with my monsters...