Well, I've been pretty quiet about this little surprise, and I thought that I'd put some photos up, and show off a project that will hopefully have some really good results!
Here is the male, who's actual species is still a bit of a mystery to me, but I'll call him a really light coastalxjungle...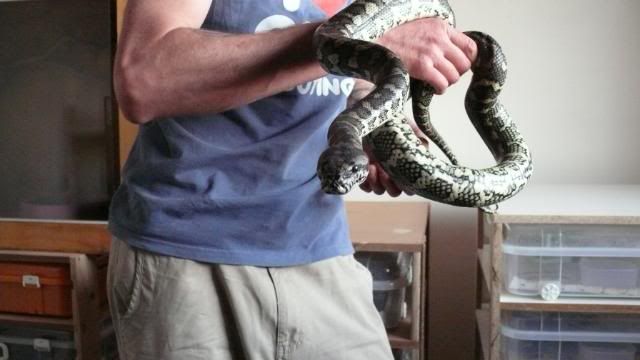 And here is the jewel of my lot, a Coastal female, and she's as feisty as the day is long, and being (hopefully) gravid, she is even more so!
Here she is looking rather uncomfortable, and full o' bumps, just after her (hopefully) pre-lay shed on the 6th/7th!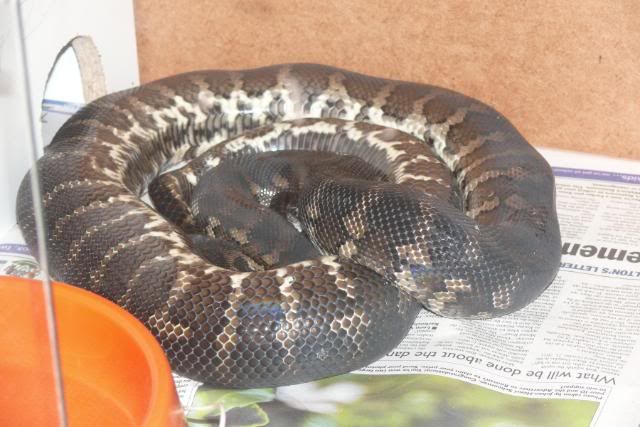 Here is a snapshot of her today, still looking rather rounded in the rear, so I am hoping that she will have quite a few white beauties for me to try and wrestle from her soon!
Here is an older pic of the two together, to show the difference in coloration of the male from the female. The male is the lighter one on top of the other...
The reason for me saying hopefully, is that I haven't palpated for eggs, and I am just leaving her to do her own thing in the cage, as she sees fit, and am following the advice of some very knokwledgeable people on the forum. Thanks Gavin, Mitton, CarpetPythons, and Sly! The male is not with the female, and they both have exactly the same setup as far as hides, climbing branches, and bowls are concerned. I just had them together for a comparison shot earlier on, before moving him into his cage, and he is also going into blue at the moment, so he also gets free reign to his own ideas and ways. The less stress on the female, the happier I feel at the end of the day!
I will keep this post updated as she progresses, and a special thanks to Sly for the help that he gave me on this one! Mr S, you are one in a million, and I thank you for all the effort you went to and have been a great help thus far!